A day of photoshoot at The National Gallery
A couple of weeks ago, we went to the National Gallery for an outdoor shoot! It's pretty much a no-brainer why we chose the National Gallery as our shoot location; isn't it one of the most beautiful places in Singapore? The wonderful architecture served as a wonderful backdrop for our upcoming designs. The National Gallery also had an abundance of natural lighting, which means prettier pictures! The special thing about outdoor shoots is that unlike indoor shoots where we take pictures of our model wearing every single colour of each design, our model only shoots in one colour of every design during outdoor shoots. Hence, if you have the same skin tone as our model, you'll know which colour of which piece would complement you most from our lookbook.
Throughout the shoot, I was absolutely salivating over our upcoming designs because they're absolutely gorgeous! Here are some of my favourites from our New Classic collection: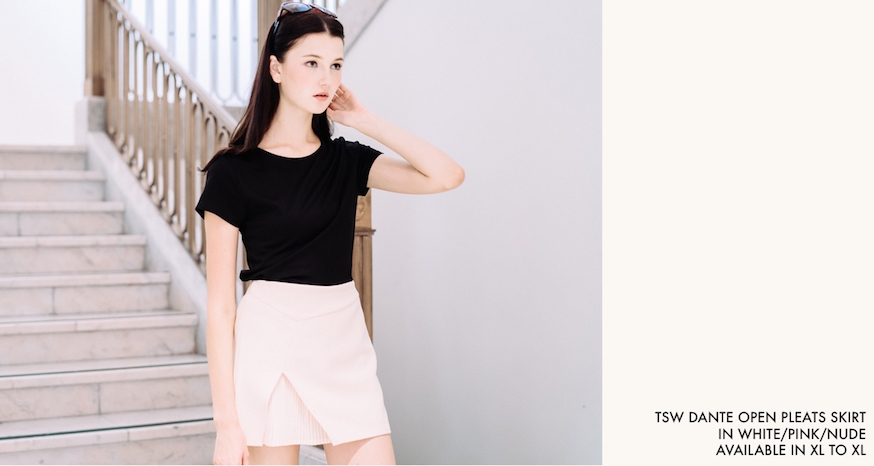 This open pleats skirt caught my eye because it gives the usual plain skirt a tiny twist - the pleats! Sometimes too much pleats makes one look like a grandmother, but there's just a tiny amount of pleats here that makes the skirt super special. You can pair this skirt with a plain shirt for casual days, or throw on a button up shirt or blouse for work! This skirt is very versatile too, and definitely value for money! My personal favourite colour for this skirt is white, because it's a classic colour that I can match easily with a top of any colour.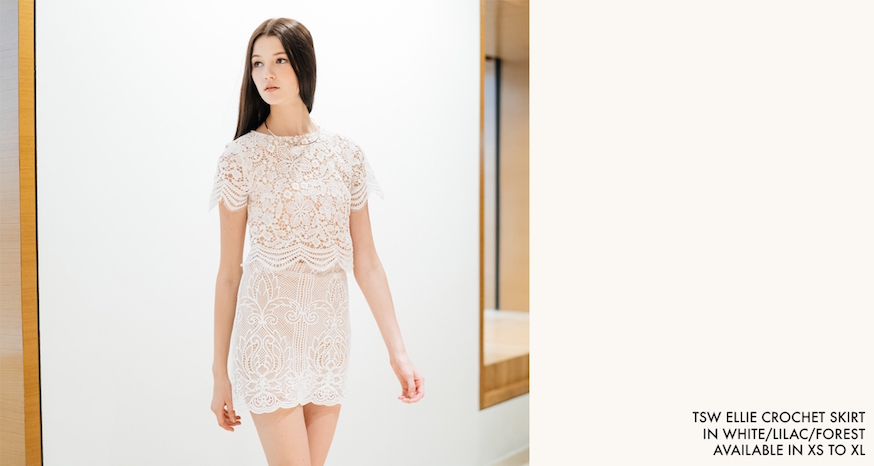 The next piece I like is the crochet skirt. Actually, to be honest, I feel that the skirt looks best when paired with its matching top. We're selling both the shirt and top, and while you can feel free to pair the top or skirt with anything you prefer, I personally feel they look the best together. It's getting increasingly difficult to find matching tops and bottoms, so from my perspective, grab them while you can! Alternatively, if you choose to get the skirt only, you can always match it with a plain top with wedges or heels, and you're good to go! I prefer this skirt in forest, because the dark colour lace helps to accentuate the crochet details on a lighter background.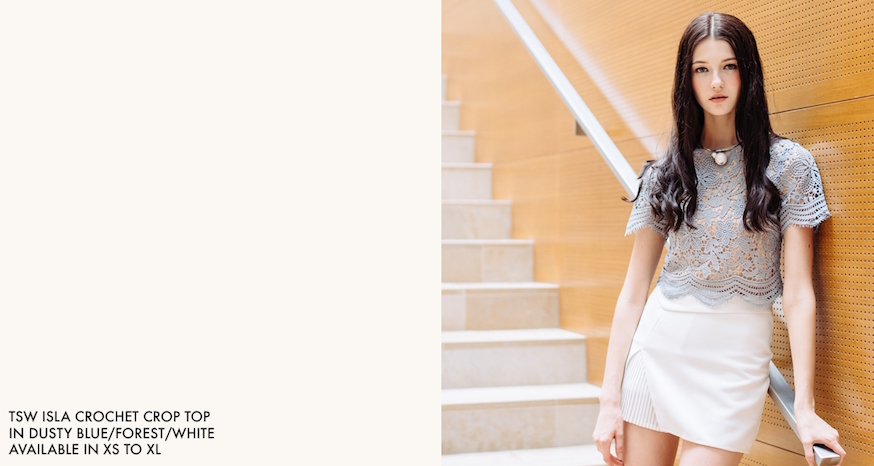 Now that we've talked about the skirt, it's time for the top! Dusty blue is the only crop top without a matchy crochet skirt, but that's alright, you can always match this crop top with any other plain skirt or shorts for a casual day out! I say plain, because if your skirt has too much patterns, there may be a clash in patterns. This crop top can definitely make you look more feminine, and even allow you to show off your toned belly. Like the skirt, I'd take this top in forest too.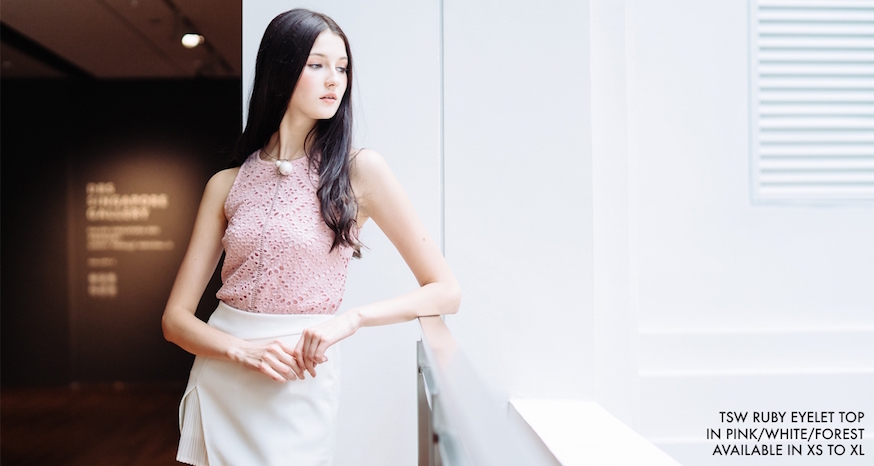 If you're a super girly girl, this top is definitely the one for you! The eyelet design makes the top more feminine, and because it's sleeveless, you can show off your perfectly toned arms in them. This top can be paired with a skirt, just like how the model wore it, or it looks great with shorts too if you're feeling lazy. While this top looks a little too informal for work in the picture above, you can always throw a blazer over it, and you'll be ready to rock this top at your workplace! I'd take this eyelet top in pink for a sweet look.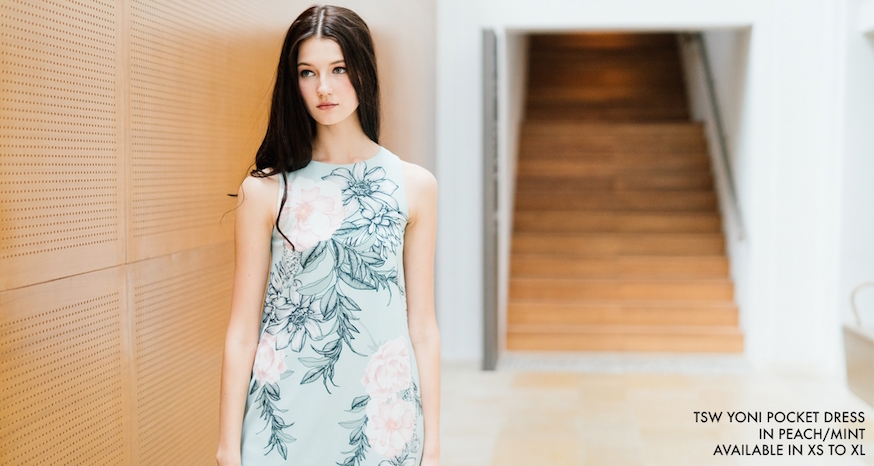 This dress is the perfect thing to wear in Singapore's swealtering weather, because not only is it light and airy, it is also sleeveless! Also fun fact: our older customers love this dress too! Yesterday, I saw one of our slightly older customers picking out this dress. She couldn't decide between peach and mint #totallyrelatable because she was really spoilt for choice. Hence, if you're looking to get apparels for your mother or even grandmother, the Stage Walk has got you covered! I'd take this dress in peach as the colours are blend better together and are less contrastive.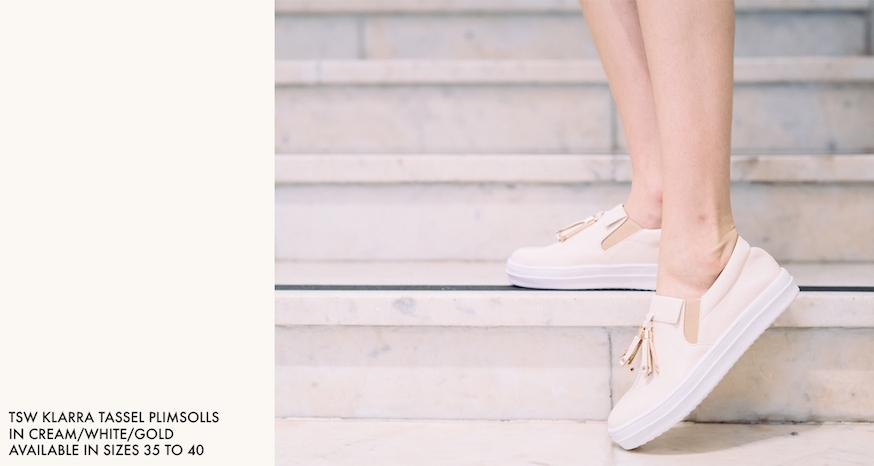 I personally feel that sneakers are too mainstream, because plimsolls are the in thing now! Plimsolls are the comfiest thing ever; I'd take them any day over heels or pumps. I really like this pair of plimsolls because I'm short, and the thick soles can make me taller HEHEHE The colours available are also the usual classy colours so they're rather easy to match with your outfit. The tassels make the plimsolls less plain and look even cuter! I'd take this pair in white because I feel it's the easiest colour to match out of the 3 available colours.
.
Next up, my picks from the Urban Escape collection!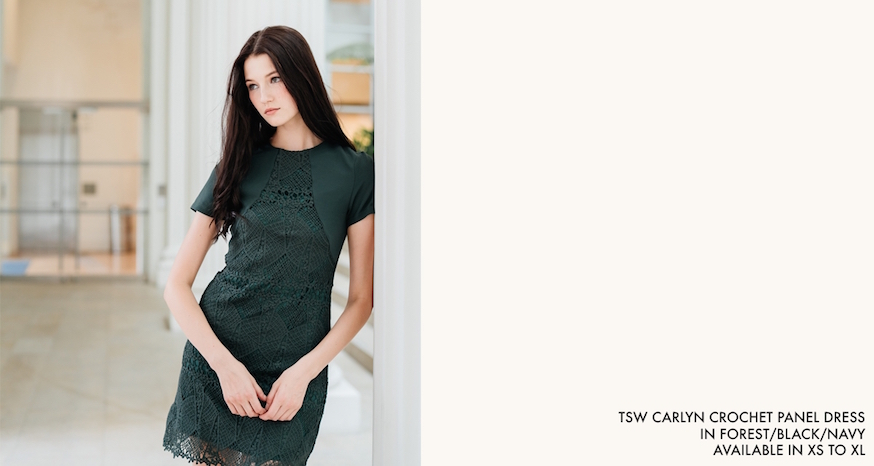 While some may feel that dresses with sleeves look very 'auntie', I don't, because I find them perfect for work or interviews! I feel that this dress consists of just the right amount of lace, with a little bit of cotton materials at the shoulder and sleeves. The dress nips in just slightly at the waist are to accentuate your waist, and isn't extremely figure hugging so you don't have to worry about visible panty lines. This can definitely be your go-to dress when you're getting late for work; you don't have to decide which top to match which bottom, just grab this dress, zip yourself up in it, and you're great to go! I'd take forest colour for this dress as it's such a unique colour, and also considering that my wardrobe mostly consists of only black or navy dresses oops.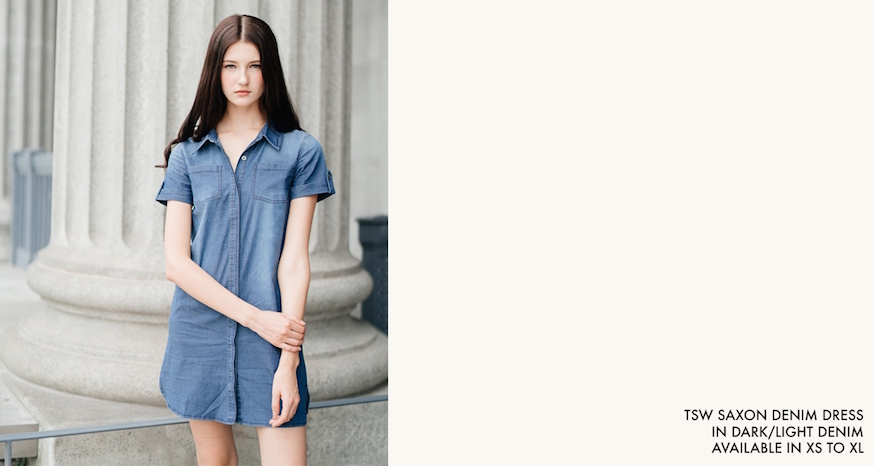 What struck me most about this dress is how comfy and casual it looks. The soft denim makes this dress the most comfortable thing ever, and there is nothing constricting the wearer at the waist. Furthermore, the button up details makes this dress less formal, and a great preppy outfit for an outing during the weekend. If you feel that the waist area is way too loose and shapeless, you can always add a belt or tie a sash at the waist are to finish off the look. The front pockets are functional too so they're rather convenient to have when you have spare change or little knicknacks on hand. I'd totally get this piece in light denim!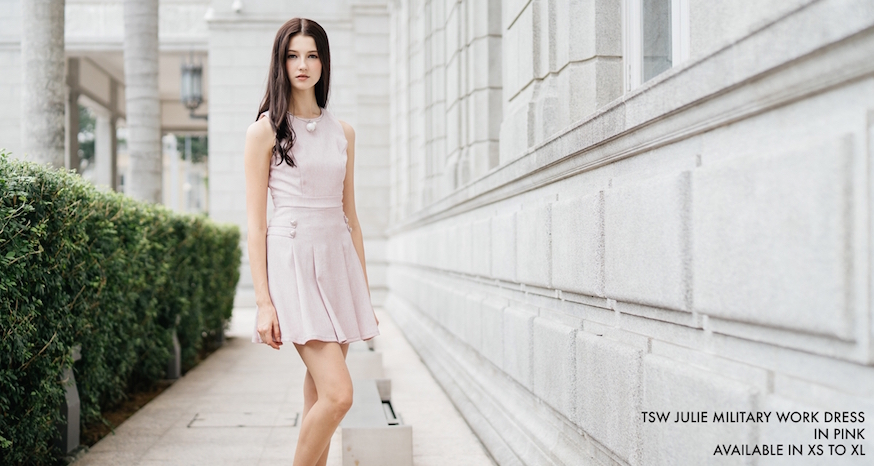 This is one of my favourite dresses because have you seen anything like this dress before?! I absolutely love how despite some military-esque design incorporated into this dress, this dress doesn't look too bring and drab, but perfectly nice to wear! The flouncy and flowy material at the bottom makes this dress rather airy and comfortable, which I believe is what almost every girl looks for in a dress. Psst psst, this dress has also been released in grey and blue too! However, I still prefer pink as I'm a girly girl at heart hehehe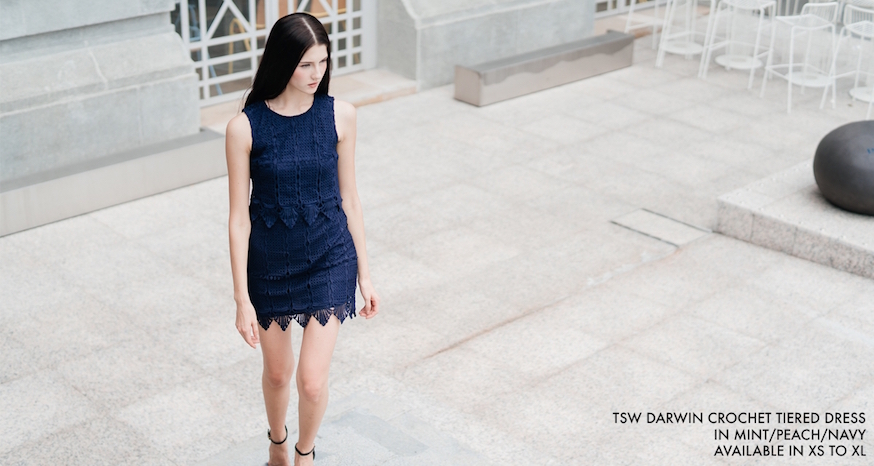 Tiered dresses are the best thing to use to trick your friends that you managed to find exact matching pieces of top and bottom HAHAHA And such dresses helps to hide your belly after meals too! To me, this dress looks absolutely elegant which I'm sure will look great on everyone. I also have to say that my dress style is a romantic, so I can never say no to anything made out of crochet or lace oops #biased. Anyway, I'll take this dress in Navy, because dark colours are my go-to colours, and they're more suitable for formal events too.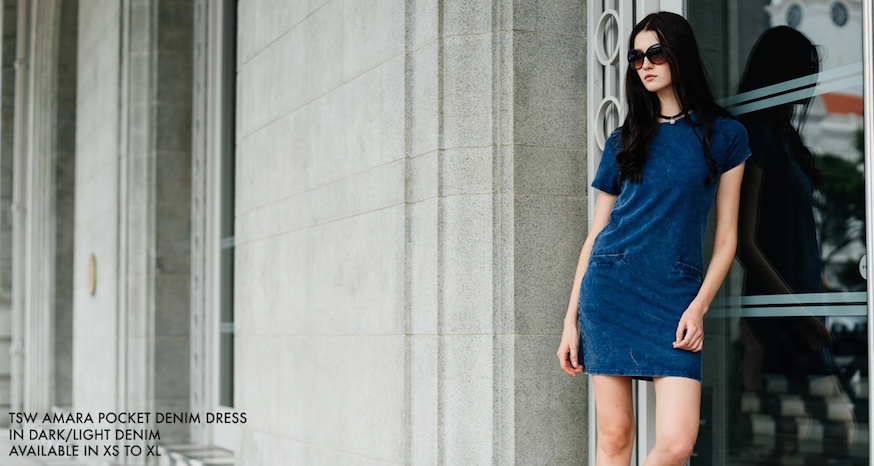 Another denim piece here again, as denim can be paired with virtually anything of ANY COLOUR. Throw a white jacket over this dress? Looks great! Carry a black bag? Fits well together! Wear a pair of outrageous yellow shoes? Why not! Furthermore, this dress isn't your usual shift dress, the waist area is slightly smaller to give this dress more shape when worn! The two pockets are totally functional as well. This is a perfect day-out dress, I'd say! I'll take this in dark denim because its colour is more outstanding than the light denim.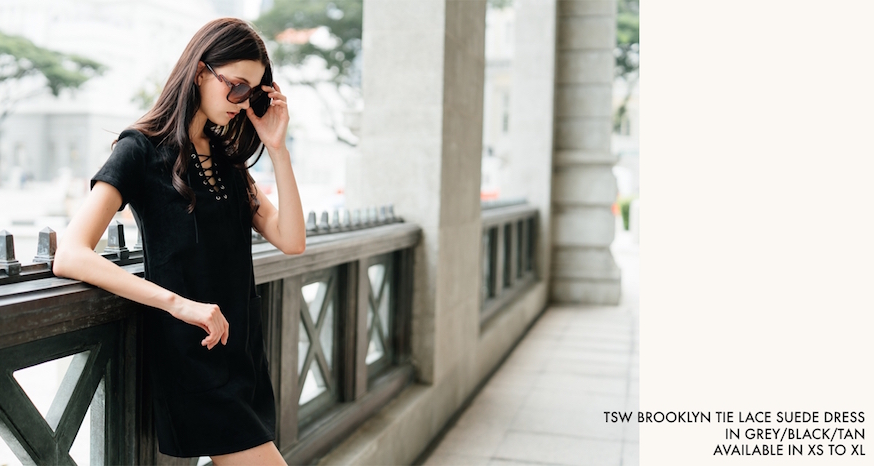 I love lace up tops and dresses loads, because they add such a flirty touch to any outfit! When I'm tired of wearing the usual v-neck or round neck tops/dresses, I'll always reach for lace up stuffs. The suede material of this dress gives the outfit a whole new unique texture, and in my opinion, suede materials always make an outfit look more expensive instantly, as if one just stepped out of a magazine shoot! As this dress is made out of a suede material, it doesn't crumple easily, so no need to iron; yay! I'd get this in Tan because Tan can better show off the suede material of this dress.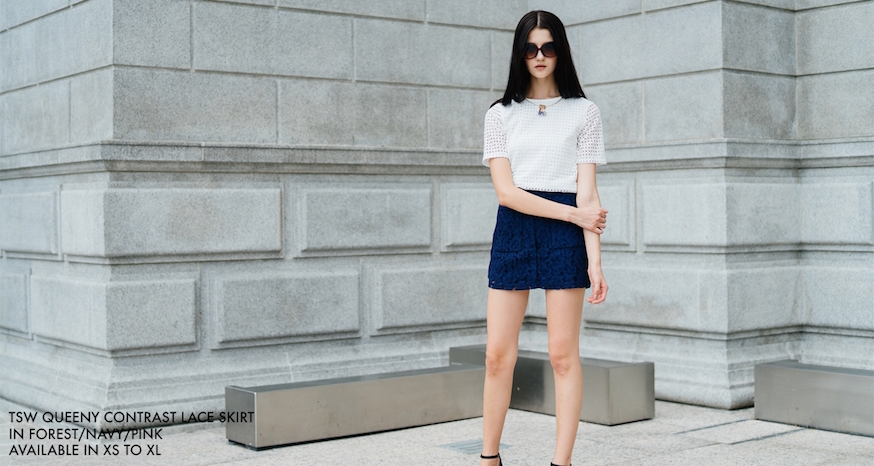 This lace skirt is definitely for someone who wants a change from the usual plain lace skirts, because there's this really cool black boxes and line on this dress. This keeps the skirt interesting, and it can be paired with a variety of different tops! As the lace material is not very stiff, this skirt is rather comfortable to wear. I'm sure this can definitely be a staple skirt in anyone's wardrobe. I'd take this in navy because I feel this colour can be matched most easily with the tops in my wardrobe.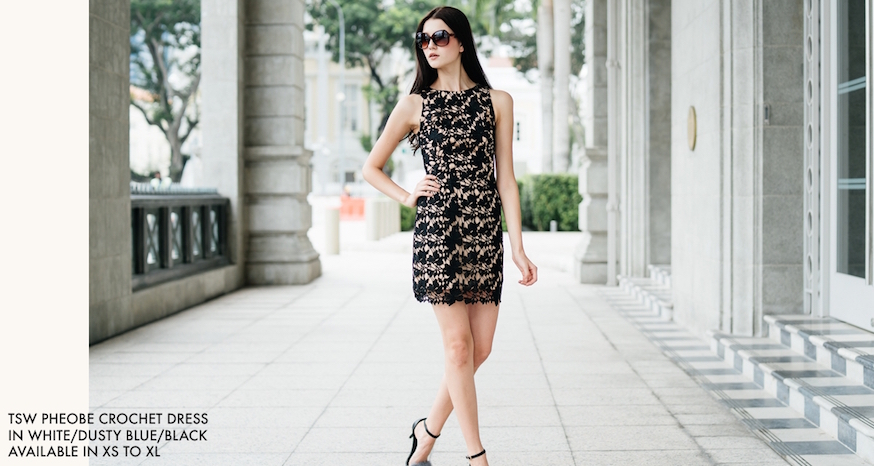 I have no idea why, but this dress totally gives me the Chinese New Year vibes! Some of you may think I'm crazy for thinking about Chinese New Year when it's literally next year, but hey, it's never too early to plan you Chinese New Year outfits! This dress definitely has a slimming and elegant effect, and can allow the wearer to show off her toned arms too! As it is sleeveless, it keeps one comfortable when visiting gazillion relatives. Hmm, I guess you know what I'm wearing next year for Chinese New Year now. I'd get it in black to wear on a usual basis because the colour contrast is the greatest to show off the crochet detail best, but I probably need to get it in white if I were to wear it for Chinese New Year; my grandmother's super superstitious and would kill me if she sees me wearing black during Chinese New Year oops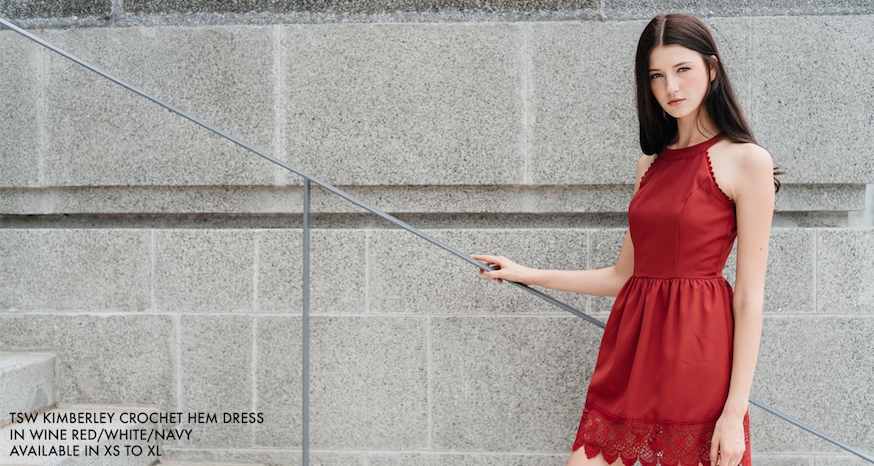 Another Chinese New Year-esque dress again AHH I'm totally in the festive mood now...3 months early. What I like about this dress is how sweet it looks! It definitely can help to accentuate your tiny waist, and the crochet detailing at the hem prevents the dress from looking too plain. I love flare dresses because they can hide my flabby thighs and food belly, which is what this dress is capable of achieving. If you feel that this dress is too plain, you can always add a white or black belt on it to add a pop of colour to the entire outfit. Wine red for me please, I can't wait for Chinese New Year!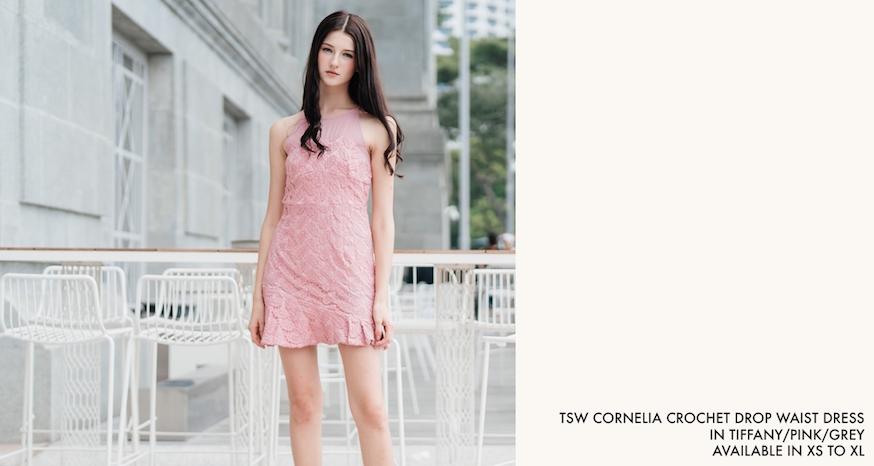 I think because flare dresses have been in trend for so long, if you were to wear a drop waist dress, you'll definitely be able to catch somebody's attention. Drop waist dresses best used to flaunt your figure, and the crochet makes the dress look even sweeter. I like how the top of this dress has kind of a mesh-like materials. It has managed to fit the mesh and crochet together very well for an interesting outfit. I can totally picture myself wearing a pair of wedges with this dress for a date. Tiffany is the colour for me, because the turquoise shade for this dress is really gorgeous!
These are my favourite pieces from our two look books! You can click the tab at the top of our website to look at more pictures from our lookbooks, and let me know which outfit was your favourite. (:
Love, Isabel